Warrior Cafe and Catering
BREAKFAST: Eggs to order, fresh pastries and Danish made in-house. Grits, Porridge and more.
ENTREES: Daily specials for lunch and dinner.
GRILL: Cooked to order burgers, french fries, sweet potato fries, onion rings and more.
DELI: Panini and cold-cut sandwiches, Wraps, Chicken Salad, Tuna Salad, Egg Salad
SOUP and SALAD: Fresh salads and fruit, meats, cheeses and so much more. A large variety for everyone. Daily home made soups and chili with fresh bread.
PIZZA and PASTA: The café's brick oven fires up each day for freshly-baked bread and pizza, sold by the slice or whole pie. Pasta with Marinara, Meat Sauce or Alfredo. Garlic Bread too!
DESSERT: Home made pastries, cakes, pies and more! Ice Cream too!
___________________________
Submit your concerns, comments and suggestions.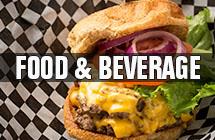 Your responses will assist in our continuous process improvement measures for our programs.
Click on image to begin!