Warrior Cafe and Catering
Thursday, November 26 (10 am-2 pm)-Open to all with Base Access.
Oven Roasted Turkey, Prime Rib Au Jus, Spiral Ham with Honey Glaze, Sage Stuffing, Red Bliss Mashed Potatoes, Candied Sweet Potatoes, Mac & Cheese, Green Bean Casserole, Apple Glazed Carrots, Kernel Corn, Turkey Gravy & Freshly Made Cranberry Sauce, Assorted Pies & Desserts to choose from.
$10.50 pp=1 Entree+3 sides, Beverage, Choice of Dessert
$12.50 pp=2 Entree+3 sides, Beverage, Choice of Dessert
$14.50 pp=3 Entree+3 sides, Beverage, Choice of Dessert
COVID-19 UPDATE to MENU
Homemade Soups of the Day and Daily Entrees are posted to Facebook and Twitter.
A La Carte Grill Menu
(Evenings and Weekends)
Pancakes (2)
French Toast (2)
Waffles
Eggs to Order
French Toast (2)
Hot Dogs
Spicy Wings
Hamburger/Turkey
Cheeseburger
Bacon Cheeseburger
Steak or Chicken Cheesesteak
BLT
Grilled Cheese
Quesadilla (Chicken/Beef/Cheese)
Fried Fish of the Day
Calzone (Cheese or Pepperoni)
VEGAN
Vegan Cheesesteak (Mushrooms, Peppers & Onions).
Green Goddess Wrap (Kale Chips & Guacamole)
Beyond Burger
__________________________
BREAKFAST: Eggs to order, fresh Donuts and homemade Pastries. Grits, Porridge and more.
ENTREES: Daily specials for lunch and dinner.
GRILL: Cooked to order Burgers, French Fries, Sweet Potato Fries, Onion Rings and more.
DELI: Panini and Cold-cut sandwiches, Wraps, Chicken Salad, Tuna Salad, Egg Salad
SOUP and SALAD: Fresh Salads and Fruit, Meats, Cheeses and so much more. A large variety for everyone. Daily homemade Soups and Chili with fresh Bread.
PIZZA and PASTA: The café's brick oven fires up each day for freshly-baked Bread and Pizza, sold by the slice or whole pie. Pasta with Marinara, Meat Sauce or Alfredo. Garlic Bread too!
DESSERT: Freshly baked Cookies. Homemade Pastries, Cakes, Pies, Pudding, Tarts and more! Ice Cream too!
___________________________
Submit your concerns, comments and suggestions.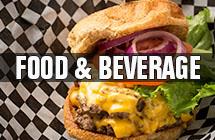 Your responses will assist in our continuous process improvement measures for our programs.
Click on image to begin!