Welcome Aboard
Naval Support Activity Bethesda
Welcome to Naval Support Activity Bethesda, located just north of the Nation's Capital in Bethesda, Maryland.
NSA Bethesda is home of the world renowned Walter Reed National Military Medical Center, the flagship center of military medicine, and Uniformed Services University, dedicated to training medical professionals for careers in the Department of Defense and the Public Health Service.
NSA Bethesda supports their ability to provide world class medical care, research and education. Here, wounded, ill and injured (WII) warriors recover and heal in an environment where staff members are given the freedom to professionally thrive, and university members and faculty participate in research leading the way to higher learning and better care for all of our nation's service members.
NSA Bethesda is responsible for base operational support of major tenants, including Naval Medical Leader and Professional Development Command, Armed Forces Radiobiology Research Institute, Armed Forces Blood Program, Naval Dosimetry Center, Soldier Recovery Brigade, Navy Medicine Readiness & Training Command, Fisher House Bethesda, and many more.
In all, NSA Bethesda supports more than 40 tenant organizations.
Fleet & Family Readiness
Welcome to the official Fleet & Family Readiness (FFR) Department at Naval Support Activity Bethesda providing all personnel (including active duty, retired military, reservists, DoD employees and family members and contractors) with a varied program of wholesome and constructive off-duty leisure activities that contribute to their quality of life.
FFR programs include Morale, Welfare and Recreation (MWR), and Military & Family Support Center (MFSC).
MWR, where recreation isn't just our job, it's our way of life. MWR Bethesda provides programs in Fitness, Sports and Aquatics, Child Development, Community Recreation (Events, Tickets & Travel, Liberty) and Food & Beverage (Warrior Café, and The Daily Grind, We Proudly Serve Starbucks®).
MFSC is a full-service center offering Clinical Counseling, Crisis Response, Sexual Assault Awareness and Prevention and Exceptional Family Member support. Additional provided services include New Parent Support, Deployment Readiness, Ombudsman, Personal Financial Management Counseling, Relocation Assistance, Transition Assistance, School Liaison and Volunteer.
___________________________
Submit your concerns, comments and suggestions.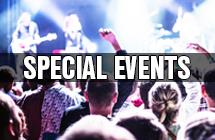 Your responses will assist in our continuous process improvement measures for our programs.Click on image to begin!