Tickets & Travel
A division of Navy Community Recreation: Tickets & Travel Office has discounted tickets for area tours, attractions, museums, amusement parks, seasonal attractions and hotel vouchers.
Eligible patrons can visit www.americanforcestravel.com for vacation planning assistance.
LOCAL ATTRACTIONS
Movie Tickets:
AMC and Regal
Theme Parks Seasonal:
Busch Gardens Williamsburg (VA)
Hershey Park (PA)
Kings Dominion (VA)

Sesame Place (PA)
Six Flags America (MD)

Six Flags Great Adventure (NJ)
NOW AVAILABLE:
The Adventure Park at Sandy Springs, located less than 10 miles from Bethesda, MD. The Adventure Park has 13 different trails with zip lines, rope rigs and wooden bridges that vary in difficulty for ages 5 and up. Each ticket is valid for 3 hours with a 40-minute briefing. Military ticket vouchers are now available at your Tickets and Travel Office.
FLORIDA
Disney World:
Military Promotional Tickets
Discounted 1 Day, 2 Day, 3 Day, and 4 Day Tickets
Universal Orlando:
Military Promotional Tickets
Discounted Regular Tickets
___________________________
Submit your concerns, comments and suggestions.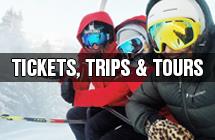 Your responses will assist in our continuous process improvement measures for our programs.
Click on image to begin!