Tickets & Travel
OPEN Monday-Friday for Ticket purchases!
A division of Navy Community Recreation: Tickets & Travel Office has discounted tickets for area tours, attractions, museums, amusement parks, seasonal attractions and hotel vouchers.
MWR Bethesda Tickets & Travel Office is currently located in Bldg. 239. Building 239 is at the bottom of the Z parking lot. Follow Taylor Road past the USO and make a left on Grounds Road. We are a cashless operation. Credit/Debit Card payments only.
FAQ's:
1. Where is the Tickets & Travel Office currently located? NSA Bethesda Building 239, bottom of the Z parking lot, which is on the left side of the road, past the USO.
From Gate: 1 – Take Palmer Rd. to Taylor Rd. and continue past the Bldg. 17, Bldg. 64 and the USO. Continue through the next stop sign and make a left after the Parking Lot Z sign. Continue down the road to the 3 warehouses at the bottom of the hill. Bldg. 239 is the middle warehouse.

From Gate: 5 – Make a right on Perimeter Rd. Follow that past the soccer field and playground. Make a left at Grounds Rd. Make a right on the road before the gravel parking lot (Parking Lot Z). Follow the road down the hill and there are 3 warehouses at the bottom of the hill. Bldg. 239 is the middle warehouse.

From Gate: 3(NEX)- Take Gunnel Rd. straight through the stop sign where it changes into E. Palmer Rd. Take E. Palmer to the end and make a right on Taylor Rd. Continue on Taylor Rd. past the Bldg. 17, Bldg. 64 and the USO. Continue through the next stop sign and make a left after the Parking Lot Z sign. Continue down the road to the 3 warehouses at the bottom of the hill. Bldg. 239 is the middle warehouse.
2. What forms of payment are accepted at the Tickets & Travel Office? We are a cashless operation. Credit/Debit cards only.
3. What types of Tickets do you offer? See link above for the latest TICKET SHEET or open DOWNLOADS on the right side of this page.
4. How can I purchase Disney Tickets? Disney Tickets, along with all other tickets that we carry, can be purchased in our Tickets & Travel Office, currently by Appointment only. Online Appointment request is available on this page.
_____________________________________________________________________________________
OPEN ATTRACTIONS
Walt Disney World
To enter a theme park, you will need a park reservation and valid admission for that park-for each day you'd like to visit. Please check to see if your desired date and theme park is currently available before purchasing your ticket or Vacation package. Keep your reservation date preference in mind when selecting your ticket or package. Different types of admission – such as tickets, Annual Passes or packages – may have different reservation date availability. Given the capacity limits, it is recommended that you link your tickets to your MYDISNEY account and make your theme park reservations immediately after purchasing your tickets. Admission is not guaranteed without a reservation.
PLANNING TOOL: Visit Mydisneyexperience to start planning your vacation. https://disneyworld.disney.go.com/plan/my-disney-experience/
MILITARY ROOM OFFER: As a member of the U.S. military, you can enjoy great rates at select Walt Disney World Resort hotels for stays most nights through December 17, 2021 when you book by December 17, 2021. WDW FY21 Military Room Offer
_____________
Universal Orlando
Assumption of Risk Disclaimer: In connection with your purchase of Universal Orlando products and your visit to Universal Orlando, including Universal Studios Florida, Universal's Islands of Adventure, Universal's Volcano Bay, Universal CityWalk, and the Universal Orlando Resort hotels, please be advised that you must follow Universal Orlando's policies, CDC guidelines and the recommendations of health officials. Please note that any public location where people are present provides an inherent risk of exposure to COVID-19 and Universal Orlando cannot guarantee that you will not be exposed during your visit. By visiting Universal Orlando, you acknowledge and agree that you assume these inherent risks associated with attendance. When you enter Universal Orlando, you understand that you are subject to the Universal Orlando terms of service (including arbitration, class action waiver, assumption of risk, and infectious disease release of liability) located at universalorlando.com/safetyinfo.
_____________
Busch Gardens Williamsburg-Water Country USA-Christmas Town
Reservations are required to visit the park. buschgardens.com/williamsburg/tickets/reservations
SPECIAL TICKET OFFER! Unlimited admission to Busch Gardens Williamsburg, Water Country USA, & Busch Gardens Williamsburg's Christmas Town. Includes general parking. Valid for regularly scheduled operating days through January 2, 2022. Click here to view flyer.
_____________
National Aquarium (Baltimore Aquarium)
Reservations are required to visit the National Aquarium. To make a reservation using tickets purchased from our office, please visit https://na.force.com/reservations/s/consignment.
To explore tours and experiences such as Dolphin Tour, Shark Catwalk Experience, Private Reptile Encounter and 4D experience at the National Aquarium, please visit https://www.aqua.org to purchase your tickets.
How is the Aquarium responding to COVID-19? There have been some essential changes to the Aquarium experience to ensure the safety of our staff, volunteers, guests and animals. Key modifications include limiting in-building capacity, advance reservations for all timed ticket entries, frequent cleaning of high-traffic areas throughout our campus and the requirement of face coverings for those who are unvaccinated.
Learn more about our updated protocols and procedures in response to COVID-19.
______________
King's Dominion
Reservations are required to visit the park. https://www.kingsdominion.com/reservations
_____________
iFly
Reservations are required. To make reservations, please call: Loudoun (Ashburn)VA 571-446-4359 /Gaithersburg, (Montgomery) MD 201-733-4359
_____________
Medieval Times
Reservations are required 24 hours in advance, either online or by phone. For online reservations, visit medievaltimes.com and select your Castle, Show Date, and Time. Enter the E-Ticket Barcode number in the Redeem Voucher field. For phone reservations, call 888-935-6878 and reference the E-Ticket Barcode number.
_____________
Dollywood
Reservations can be made at Dollywood.com/reservations using the alpha numeric bar code on the ticket issued.
_____________
Georgia Aquarium
All guests must reserve their visit prior to arrival at Georgia Aquarium; the Box Office and kiosks will be closed. No onsite ticket sales will be available. Upon arrival, you must show your General Admission ticket AND Reservation Confirmation ticket (Both are Mobile Friendly). Please visit georgiaaquarium.org/reservations and LOGIN or Create NEW Account to reserve your visit in advance.
_____________
Graceland
Reservations are not required, however, they are recommended.
For tour information, reservations, or questions, call 800-238-2000 or visit graceland.com.
___________________________
Submit your concerns, comments and suggestions.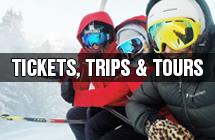 Your responses will assist in our continuous process improvement measures for our programs.
Click on image to begin!