Liberty Center
The Liberty Program is a recreation based program for enhancing the quality of life of single E1-E6 Active Duty, enlisted geographical bachelors, wounded, ill and injured service members and their non-medical attendees. The Liberty program seeks out free or low cost recreational and social opportunities to offer through monthly trips, themed activities, competitions, leisure skills, community-wide events, entertainment, and special interest programs.
NSA Bethesda Liberty Center, your home away from home, is located inside the main level of Bldg. 11.
Flat screen TVs
Gaming stations (Nintendo, PS4, VR and XBOX)
Table Games (pool, ping pong, and air hockey)
NDVD Movie Library with 800+ titles to choose from
Computers with free WiFi
Be sure to check our Monthly Liberty Calendar posted on base and in the newsletter so you don't miss out! Stay connected through social media and the MWR Bethesda Facebook page!
___________________________
Submit your concerns, comments and suggestions.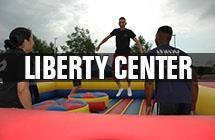 Your responses will assist in our continuous process improvement measures for our programs.
Click on image to begin!