Gate 1, Gate 2, Gate 3(NEX), Gate 4(Navy Lodge), Gate 5(USUHS)
---
FLEET AND FAMILY READINESS
COVID UPDATES(As of 8/29/22) specific to each program in addition to base restrictions.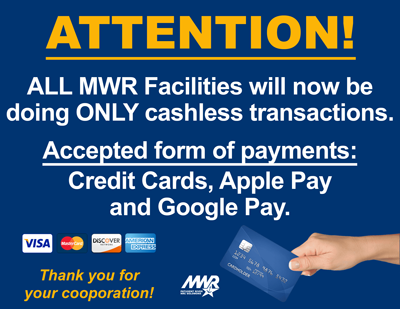 FITNESS CENTER & POOL
Mask is not required.
Patrons will be responsible for their own physical distancing. Staff will monitor all areas and remind patrons who are not in compliance.
Workouts are limited to 60 minutes.
Lockers are available during workouts only. No items may be left in the daily, non-rented lockers after workouts.
Bags must be placed on tables outside workout rooms.
Towel service has been suspended. Please plan to bring your own towel if needed.
Use the gym wipes provided to thoroughly clean equipment, accessories, and the area used before and after use.
No additional Room Capacity limits.
Fitness
Group Fitness classes will resume 1 September 2022.
No limit on Unit PT.
Regular play in racquetball.
Aquatics
Lap swimming only.
Military-issued PT gear is required for active duty.
Personal bags must be stored on chairs and not on the pool deck.
Swim aid equipment will not be available.
Sports
Open play for basketball.
Heavy bag and speed bag will be available.
WARRIOR CAFE and DAILY GRIND
Reduced seating has been implemented. Total indoor seating of 50 persons.
Grab and Go Sandwiches and Salads are available.
Self Service of Fountain Drinks is available.
Cashless payments. Credit Cards, Apple Pay, Google Pay
MILITARY & FAMILY SUPPORT CENTER
Open Monday-Friday, 7:30 a.m.-4 p.m.
PH 301-319-4087
TICKETS & TRAVEL OFFICE
Open Monday-Friday, 8:30 a.m.-3:30 p.m.
PH 301-295-0434
Cashless payments. Credit Cards, Apple Pay, Google Pay
---
ATTENTION NAF EMPLOYEES
Support is available for any NAF employee experiencing increased anxiety, fear or emotional stress surrounding the coronavirus outbreak, it may help to speak to a professional clinician through your employee assistance program (EAP) provided by ACI Specialty Benefits. ACI's EAP is confidential, free to use for employees, and open to all family members. Call ACI at 800.932.0034 or email eapinfo@acispecialtybenefits.com. Download the brochure here.
---
GENERAL COVID RESOURCES